Getting students to school safely and on time. Our instructional goals can only hope to be met when we are able to accomplish these two tasks as a regular practice. As the school year begins, the Newton Public Schools are partnering with powerful national, state, and local organizations
to bring attention to the importance of attending school and walking safely to get here.
Attendance Awareness Month.

Showing up for school has a huge impact on a student's academic success starting in kindergarten and continuing through high school. Even as children grow older and more independent, families play a key role in making sure students get to school safely every day and understand why attendance is so important for success in school and in life.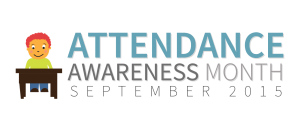 We realize some absences are unavoidable due to health problems or other circumstances. But, we also know that when students miss too much school— regardless of the reason – it can cause them to fall behind academically. Children are less likely to succeed if they are chronically absent—which means missing 18 or more days over the course of an entire school year. Research shows:
By 6

th

grade, chronic absence is a proven early warning sign for students at risk for dropping out of school.

By 9

th

grade good attendance can predict graduation rates even better than 8

th

grade test scores.
Absences can add up quickly. A child is chronically absent if he or she misses just two days every month.
Clearly going to school regularly matters!
Signing an

attendance pledge ... students, parents, and teachers!

Placing a sign in your local business that shows your support for Attendance Awareness month (signs were distributed to local businesses earlier this month).

Spreading the word about the importance of pupil attendance.
Street Smart pedestrian safety campaign.
Street Smart is a public education, awareness and behavioral change campaign that uses high visibility enforcement,
education, and grassroots public awareness to address pedestrian safety issues. The Street Smart concept has had proven success in five diverse pilot communities including Hackettstown, Newark, Jersey City, Woodbridge, and Long Beach Island. Street Smart is a collaborative effort between the North Jersey Transportation Planning Authority (NJTPA), the Federal Highway Administration, New Jersey Department of Transportation and New Jersey Division of Highway Traffic Safety.
TransOptions
is working with NJTPA to coordinate the Street Smart campaign in communities throughout northwestern New Jersey.
Why New Jersey?
New Jersey currently ranks fourteenth in the nation in pedestrian fatalities and has been named a focus state by the Federal Highway Administration. From 2009‐2013, 697 pedestrians were killed and more than 22,000 were injured statewide.
Why Newton? Since 2011, there have been 26 pedestrian-related crashes in Newton, including one fatal crash. Four of these crashes were a result of pedestrians jaywalking and eight crashes were a result of pedestrians being struck while crossing within a marked crosswalk. Newton is home to the Sussex County seat, Sussex County Community College, Newton Medical Center, the Newton Theater and is a walking school district. It is important that both drivers and pedestrians in the community understand their personal responsibilities in creating a safe environment for all road users. TransOptions, the Newton Police Department, and town officials plan to coordinate the Street Smart efforts from September 8th - October 31st, 2015.

What is the goal of Street Smart? Street Smart aims to change pedestrian and motorist behavior to reduce pedestrian-related crashes, injuries, and fatalities. The campaign uses the slogan "check your vital signs" to remind motorists and pedestrians of their safe travel roles and responsibilities. The vital signs are to be displayed on tip cards, posters and on temporary street signs throughout the community as a visual reminder for drivers and pedestrians.